An Update on AppNexus' 2017 Diversity and Inclusion Objectives
In 2017, AppNexus set diversity and inclusion as a top company priority, through objectives to which our leaders and employees across the company were accountable for contributing. Each of us should feel safe and included as their authentic self in all aspects of work, and the actions and voices of the whole translate to an environment in which this is possible for every individual.
So from an international listening tour with employees conducted by our Chief People and Legal Officer to Open Forums around the #MeToo movement, Charlottesville rallies, immigration policies, and the infamous Google diversity memo, to recognizing and calling out opportunities for allyship, to a push for equal representation on our event stages, we listened to every raised voice.
From a business perspective, innovation and long-term sustainability come through a diverse workforce and an inclusive company culture, which attracts, retains, and promotes that workforce. It is in this spirit that, over the last several years, AppNexus has set about defining what diversity and inclusion mean to us, embedding better practices across our organization, particularly in hiring and employee development.
Last year, we shared our objectives for increasing the diversity of our employee base and applicant pool, and, because we felt they were so important to our business, incorporated their accomplishment into our annual bonus plan. In 2017, here is what we aimed for, and what we achieved:
50% of Manager and above roles open in 2017 to be filled by women or underrepresented groups. 44% of manager and leadership roles filled by women; 50% gender parity of external hires to manager roles.
All leadership interview loops have at least two female or underrepresented group candidates interviewed. We achieved this in most cases.
Application rates of Black or African American and Hispanic or Latino applicants at 16% and 14% respectively. We hit 10% and 8%, respectively (up from 8% and 7% previously.)
35% of tech roles filled by women. 27% of tech roles filled by women; women comprised 34% of internal transfers to tech roles.
80% of women/non-binary or underrepresented group summer interns return to AppNexus full-time in 2018. 75% of our women/non-binary or underrepresented group summer interns are returning.
Ally skills training with at least a 30% participation rate of global AppNexians, including 30% of our people managers. 34% of our employee base participated in the training, as well as 53% of our executive leadership team.
Hiring a dedicated, full-time Diversity & Inclusion manager. We were thrilled to announce the appointment of Antoinette Hamilton to the role of Vice President, Diversity, Inclusion and Community Experience. Antoinette spearheads initiatives to promote a diverse and inclusive global culture within AppNexus, broaden the range of the company's talent pipeline, and drive thought leadership, employee training, and best corporate practices.
Who works at AppNexus today?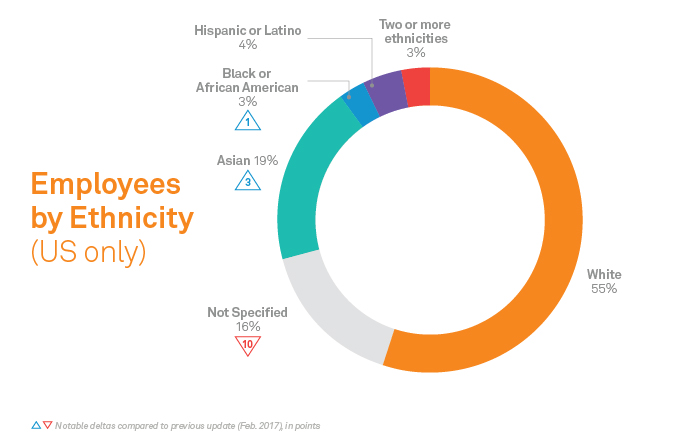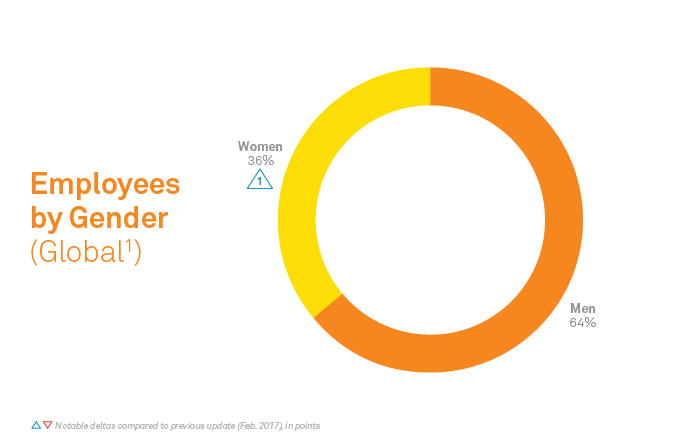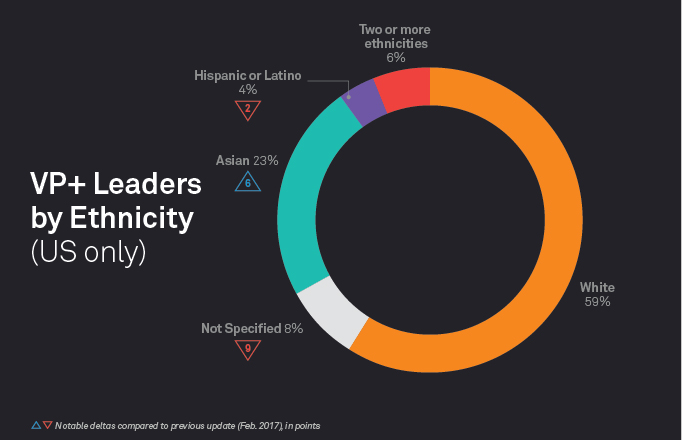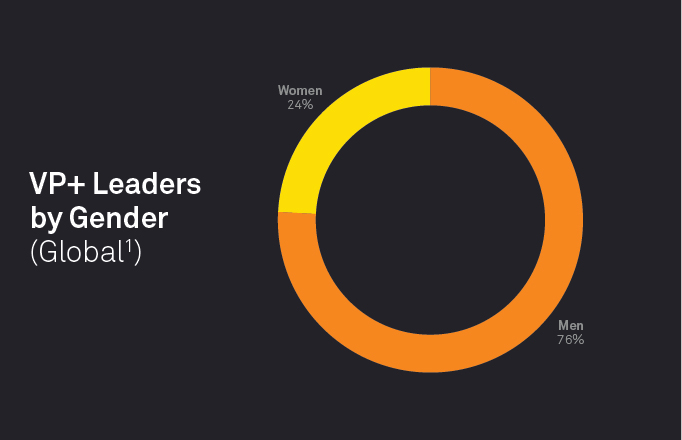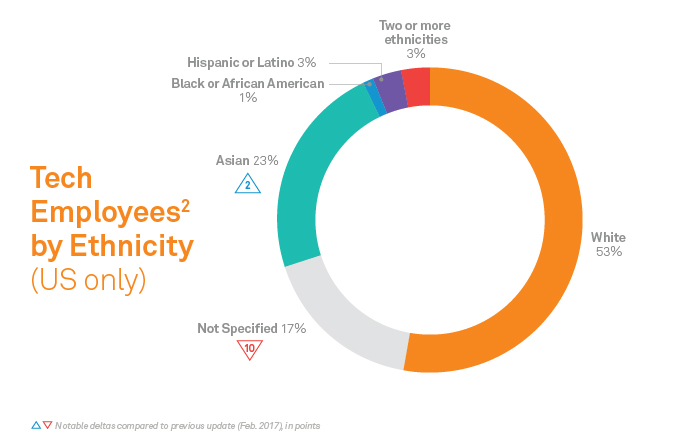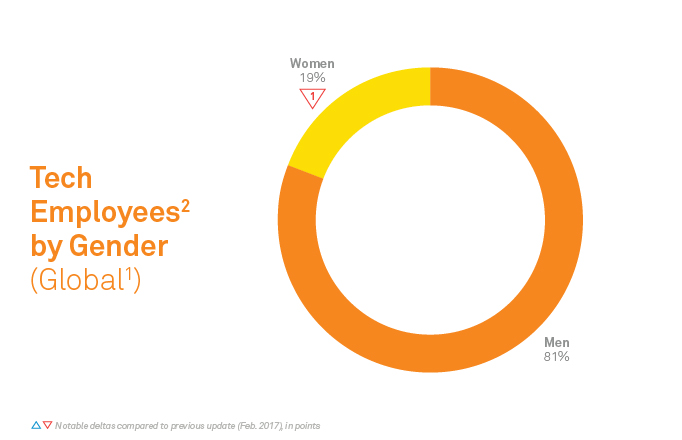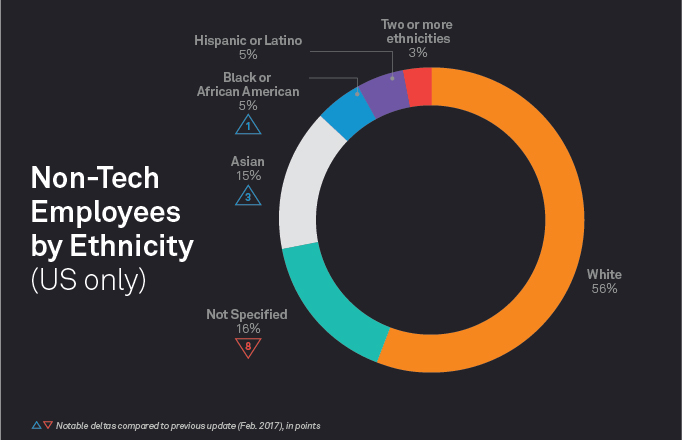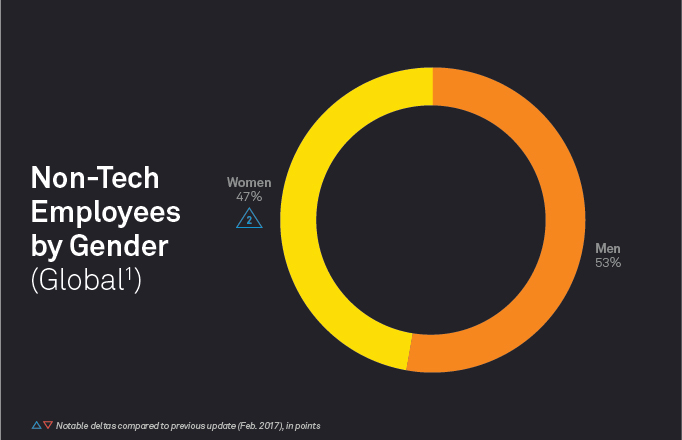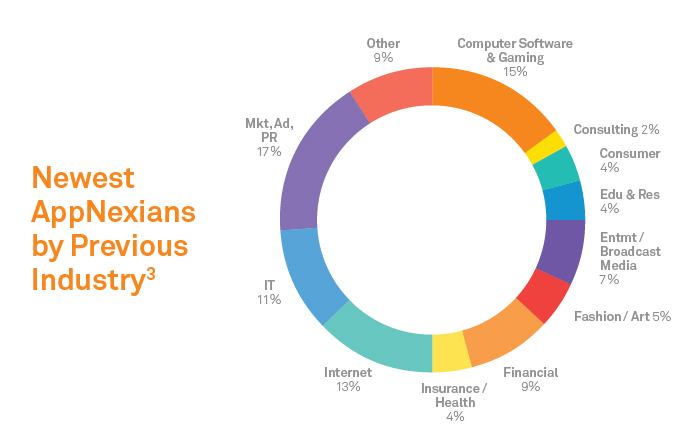 While we set objectives for the demographics of our employee base and applicant pool, we also saw that hitting them – or striving to – wasn't the sole path to fostering diversity, and that the right internal conditions needed to be set in order for underrepresented groups to be included and set up for success. Changes, some minor, others larger, many born from employee feedback, enabled us to create lasting progress, so that inclusion simply becomes our way of being.
Hiring and interview training - Rather than a standalone diversity-focused hiring and training session in our hiring and manager training, we now weave diversity and inclusion best practices throughout these trainings. Through a bias-free, inclusive hiring process, we will reinforce a message that our colleague, Ashley Babinecz who leads our Recruiting team often says: "hiring the best" and "hiring diverse teams" are one and the same.
Pay Equity Analysis - We undertook a voluntary, comprehensive analysis of the cash compensation of our U.S. based employees to determine if men and women are being paid equitably. To complete the analysis, we hired an outside employment lawyer who then engaged a statistician with in-depth experience in pay equity analyses. We looked at the entire US employee population and, when we saw disparities – in some cases for men as well as women – that we did not understand, we dug deeper. The news was quite good – in only a few instances did we determine some pay adjustments were appropriate, even then based on forward thinking about pay equity rather than that we found any discrimination.
Open Forums - We embraced the reality that for many of our employees, their work community is their primary community and created forums to talk at work in a safe space about topics like the #MeToo movement, Charlottesville rallies, Black Lives Matter, and the Google diversity memo.
Gender Neutral Bathrooms - All eligible bathrooms in our New York office were converted into gender neutral bathrooms. We have been rolling this out globally, as permitted based on our office lease agreements.
Preferred Pronouns incorporated into communications systems – We added the option to indicate preferred name in HRIS and to share preferred pronouns in Slack profiles. We also updated the names of some of our Slack channels, as, in review, we saw that titles of much-used, company-wide Slack channels were unconsciously lending to a culture of exclusion.
Return to Work Program - In Spring 2017, we hosted our inaugural "Return to Work" program in partnership with Path Forward, a non-profit organization whose mission is to empower people to restart their careers after caregiving. The program welcomed three Returnees for a 16-week paid internship in our Customer Success organization. We were thrilled to convert two of our three Returnees to full-time positions.
Inclusion Survey - We launched our first ever Inclusion Survey in 2017. 64% of AppNexians completed the survey, and many of the D&I efforts undertaken during 2017 were a result of discussions stemming from the survey.
It would be myopic to say that we're satisfied. Though a stone's throw away from achieving many of our 2017 objectives, enduring wins require aspirational thinking, tempered by realistic analysis of the workforce, focused on intersectionality, enacted through analytical processes. We share our 2018 goals and processes in a second post.