Moving Towards a More Diverse and Inclusive AppNexus
This post was written by Nithya Das, SVP, General Counsel and Brandon Atkinson, Chief People Officer
Two years ago, AppNexus embarked on a journey to define and develop what diversity and inclusiveness mean here – and to increase both. Over this time, we have seen accomplishments and created a roadmap, further committing to work towards ongoing improvement in these areas.
We aim to create a diverse and inclusive workplace where all AppNexians feel comfortable and included, just being themselves. We believe every AppNexian has a responsibility to work with us to build a community in which everyone feels involved, valued, and respected.
Fueled in part by our value of diversity and inclusion, we also know that employee diversity sets AppNexus up to achieve better business outcomes. This has been proven time and time and time again.
What we've been doing to increase diversity and inclusiveness
Over the past two years, some of our successes have been:
Partnerships: Developed partnerships with organizations focused on diversifying the pipeline, including Girls Who Code, Flatiron School, Path Forward, and the NYC Mayor's Office and PENCIL.
Metrics: Enhanced our demographics tracking and invested in measuring the diversity of our pipeline to understand why certain groups were under-represented in the applicant pool and where in the recruiting process we were losing candidates.
Hiring Process: Revised our job descriptions to use inclusive language and trained recruiters and hiring managers on competency-based interviews, to decrease potential bias and focus on intrinsic capabilities instead of skills that can be learned on the job.
Employee Groups: Fostered employee affinity groups, which work to create awareness of and support for our diverse employee community on important issues ranging from women in leadership to blood equality and racial equality.
Company Policies: Implemented and trained our global workforce on policies which set a high bar for acceptable conduct in the workplace, using a company-wide vernacular to identify inappropriate behavior, and created clear reporting channels.
Global Inclusion: Launched a OneAppNexus initiative with a focus on making AppNexus a more inclusive experience for our non-NYC offices, and the first AppNexus Inclusiveness Survey, a voluntary employee survey.
Awareness and Dialogue: Offered several opportunities for AppNexians and the broader tech community to hear from diversity experts like Verna Myers and Professor Jerry Kang in the areas of unconscious bias and speaking boldly about race and other differences, and to come together at events like our Women's Leadership Forum.
There is still a lot more work to do.
Our Diversity and Inclusiveness Plan for 2017
This year, AppNexus is doubling down on our commitment, creating company-wide diversity and inclusiveness objectives and incorporating those goals into the annual bonus compensation of our leaders.
Despite our best efforts, we may not meet all of these objectives. However, we believe that the importance of creating shared accountability across AppNexus and the power of publicly setting goals which may help galvanize the tech community are more important than the risk of public failure.
We also recognize that ideas about how best to define and achieve a diverse and inclusive workplace vary between countries. We approach our Diversity & Inclusion initiative with sensitivity to local customs and laws, even as we affirm its centrality to our core mission and values.
In 2017, our main objectives include:
Ally Skills Training – We believe allyship is critical to creating a safe environment for all AppNexians. Being an ally is about actions, not words, so we are aiming to launch an Ally Skills program for our employee base with at least a 30% participation rate of global AppNexians, including 30% of our people managers who we believe have the greatest influence to impact our environment.
Shared Accountability and Action – We believe our greatest opportunity to achieve change across AppNexus is impact at a team level. Our Diversity & Inclusion initiative will not be successful as a strictly top-down directive. We are asking each of our functional teams to develop and execute a plan which will incorporate diversity and inclusion into their existing operations, also known as D&I by Design.
Change our Numbers – We believe that we need to improve our demographics with a focus on increasing diversity in our leadership ranks because we believe that will have a network effect to increase diversity and inclusiveness across our employee base. So, we are aiming to achieve the following:

50% of Manager and above roles open in 2017 to be filled by women or underrepresented groups;
All leadership interview loops have at least two female or underrepresented group candidates interviewed;
Application rates of Black or African American and Hispanic or Latino applicants at 16% and 14% respectively;
35% of Tech (engineering, data science and techops) roles filled by women; and
80% of women/non-binary or underrepresented group summer interns return to AppNexus full-time in 2018.
The groups that we are primarily focused on with these workforce goals are women, black or African-American, Hispanic or Latino applicants and LGBTQ applicants. We are working to improve how we survey our workforce to overcome reporting limitations that make it challenging for companies to achieve these outcomes.
Increase Employee Engagement – We believe that to sustain a globally inclusive environment, we must have high-performing managers and an engaged employee base. We seek to increase our company-wide Gallup Employee Engagement mean score by +0.2 YoY putting AppNexus in the 50th Percentile+.
We are also hiring a dedicated full time Director of Diversity and Inclusion. If you or anyone you know is passionate about and experienced in this area, please encourage them to apply.
Where we are today
All AppNexians: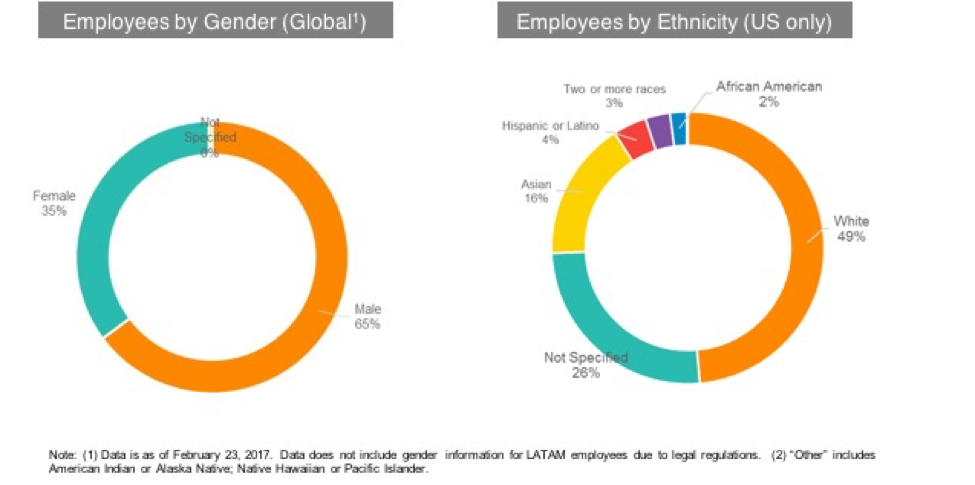 VP+ Leadership:
AppNexians in Tech roles:
AppNexians in Non-tech roles: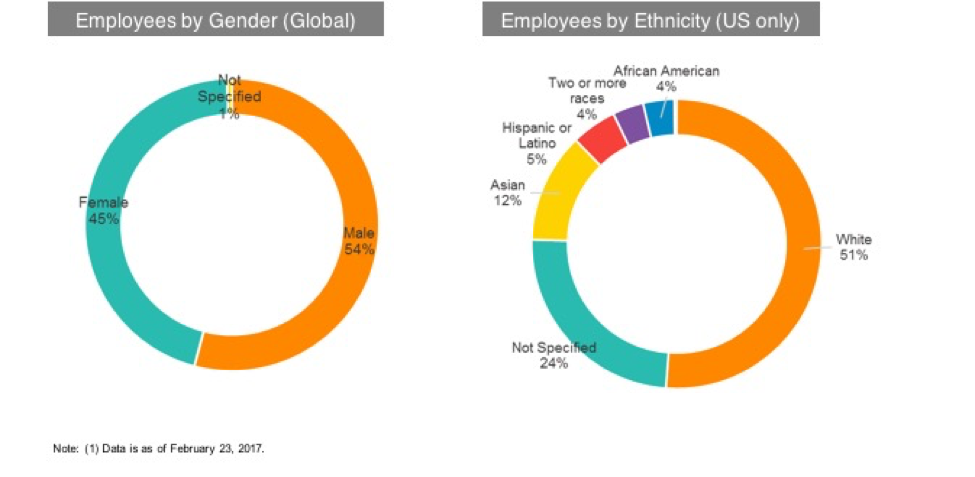 We believe that retention rates of each demographic group are strong indicators of employee satisfaction and workplace culture. While we are not ready to report this data currently, we will release it in the coming year.
A call to join us
There's a lot of work to be done to meet these objectives.
If you are a part of the AppNexus community, we need your help:
Attend Ally Skills Training, encourage your colleagues to attend, and consider volunteering to be a trainer.
Join the discussion on the #DiversityandInclusion Slack channel, attend one of our D&I Round Tables or Open Forums, or become a member of an AppNexus Affinity Group and Club (which are open to everyone – not just employees of a specific group).
Ask your manager how you can support your function's diversity and inclusiveness plan. Reach out to TAG to find out how you can support our goal to change our numbers.
For those of you outside of AppNexus, ask your leadership team to publish your company's demographic data and publicly state their diversity and inclusiveness goals. It takes tech companies working together with transparency and commitment to disrupt our industry's composition. 
We look forward to sharing our progress and learnings with you when this year wraps up.