Disability Inclusion 101: 3 Tips For Empowering Employees With Disabilities
Despite the progress that's been made in recent years, many Americans with disabilities have a difficult time finding work and an even harder time thriving in workplaces that are often not designed to meet their needs. In 2017, just 18.7% of people with disabilities were employed, according to the U.S. Department of Labor, as compared to 65.7% for those without a disability.
This disparity is detrimental to not only to people with disabilities who want to work but also to the companies who are missing out on their talents. In fact, managers frequently find that employees with disabilities are among the most dedicated employees in the office.
"It takes me longer to get dressed in the morning, to get ready, to get to work," said Ila Eckhoff, a BlackRock Managing Director who has cerebral palsy. "I have to be that much more motivated."
At the 2018 Women's Leadership Forum, Eckhoff was one of several speakers to offer advice on how corporate leaders can harness the talents of employees with disabilities by building truly inclusive environments. Here's some of the advice they shared:
1. Follow the 80/20 rule.
As Head of the global Office of Disability Inclusion at JPMorgan Chase, Jim Sinocchi has been able to hire about 600 people with disabilities each year by teaching hiring managers what he calls the 80/20 rule.
Essentially, Sinocchi believes that job applicants with disabilities are like everybody else in that they already have 80% of what they need to succeed by the time they arrive at the interview. They have the qualifications needed to get a callback; they showed up at the office at 8 a.m.; they're in appropriate attire. All managers have to do is teach them the 20% that is specific to the nuances of the job they're applying for.
But while managers are eager to teach most workers the 20%, Sinocchi says they often become skittish at the prospect of hiring someone with a disability, either because they're worried about saying the wrong thing or because they doubt the candidate's abilities. Instead, Sinocchi urges JPMorgan's managers to give applicants with disabilities the same benefit of the doubt everyone else gets. After all, the company isn't hiring people with disabilities because they feel sorry for them - they're hiring them because they're the best people for the job.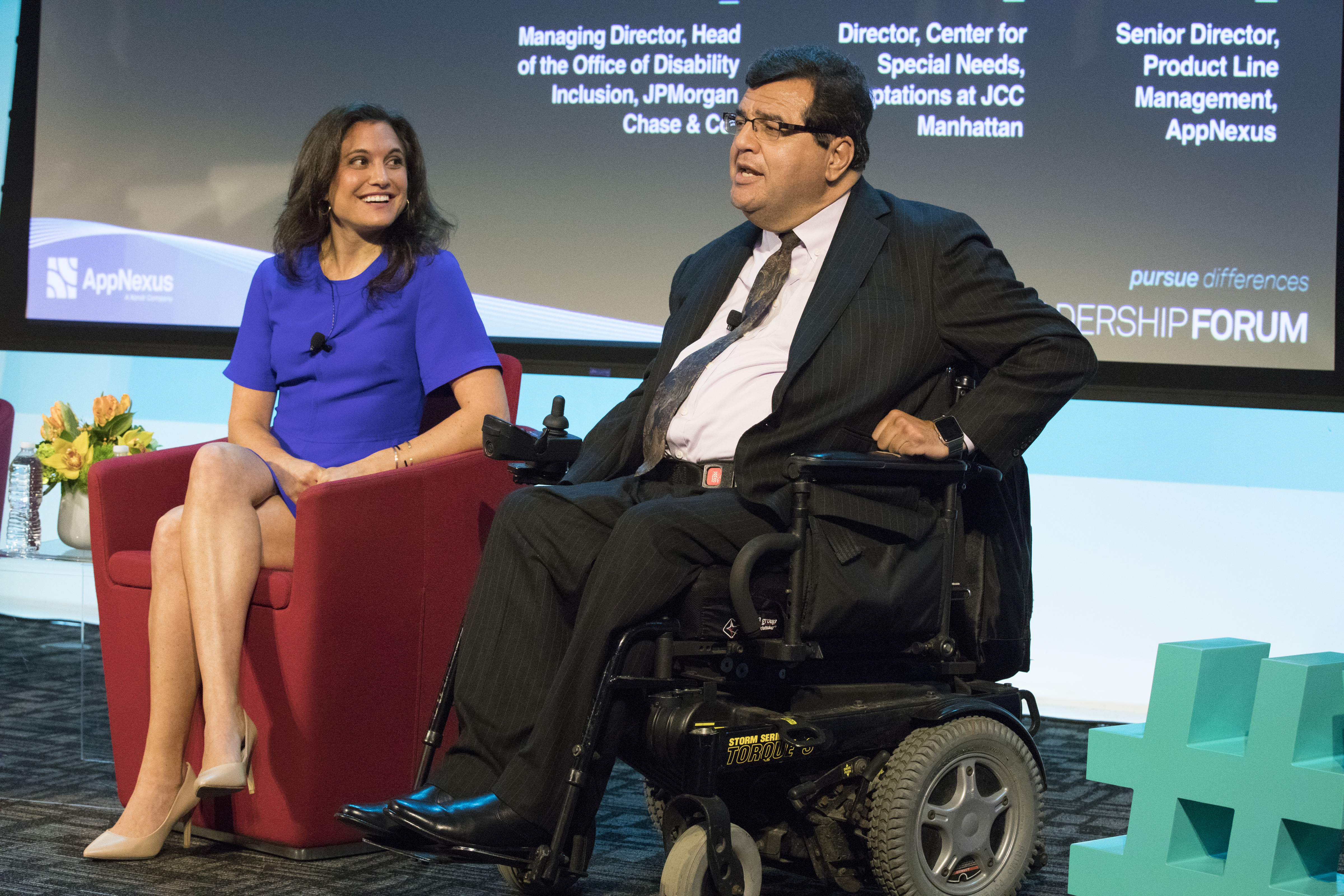 2. Put people with disabilities in a position to succeed.
It's incumbent on company leadership to do its best to help people with disabilities thrive in their jobs, just as they work to position the rest of their workforce for success.
This starts by hiring people for jobs that match their skill sets and capabilities, Sinocchi said. For instance, a paraplegic might not be able to handle the physical demands of stocking shelves, but someone on the autism spectrum might excel in the job due to their rote memory skills.
Allison Kleinman, Director of JCC Manhattan's Center for Special Needs, said companies can further support workers with disabilities by providing specialized training to managers across their various departments and corporate hierarchy levels. At JPMorgan, Sinocchi trains managers anxious about talking to workers with disabilities to begin the conversation the way they would with anyone else -- that is, by saying hello.
Lastly, Sinocchi noted that it's important for managers to be proactive in addressing the needs of workers with disabilities, who often worry that asking for help will cause them to be held back in their careers. Rather than waiting for them to come forward with an issue, managers should ask if there's anything they can do to help make their jobs easier.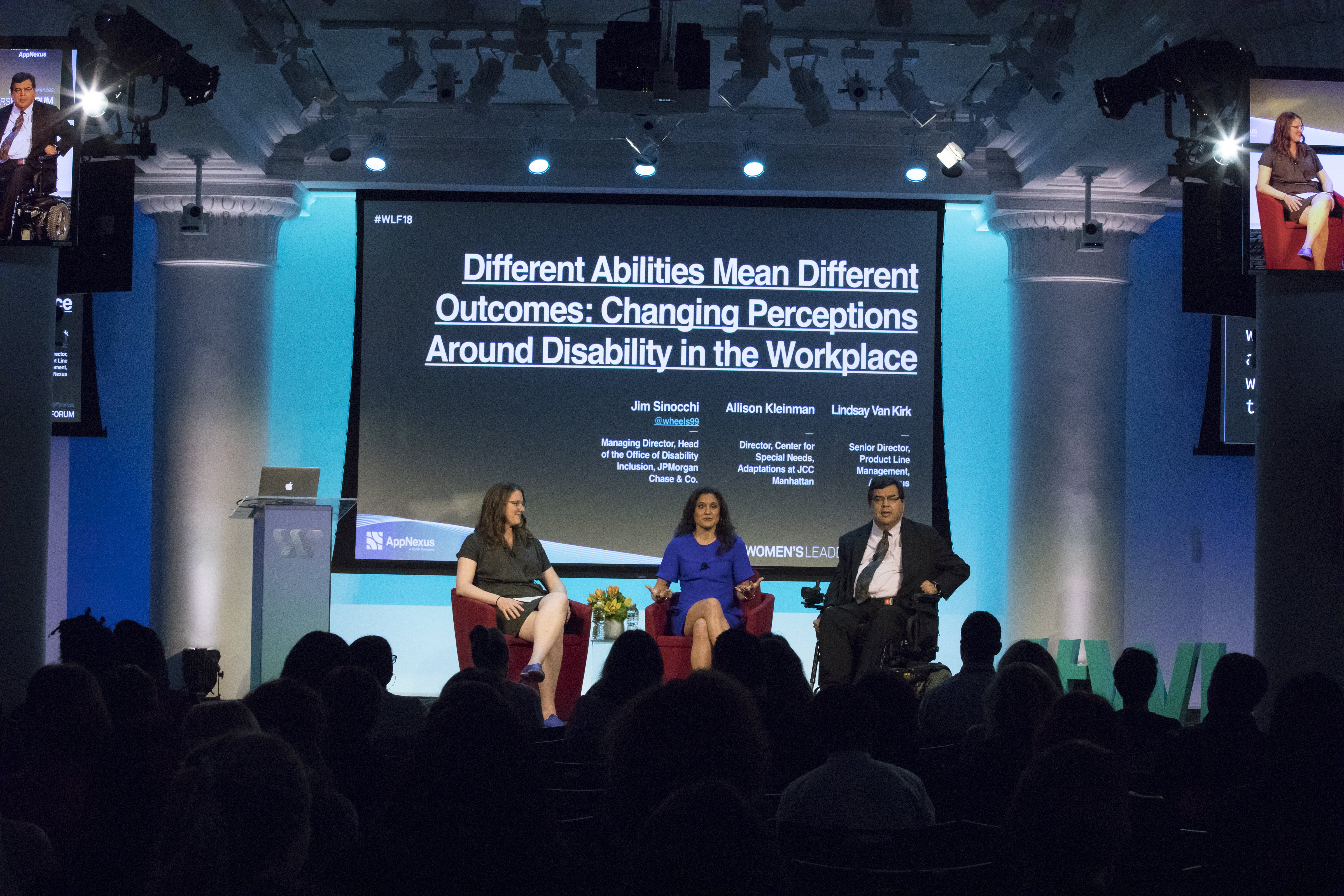 3. Build a culture of inclusion and a robust disability network.
Building a companywide culture of disability inclusion requires a sustained effort from the c-suite all the way down.
At JPMorgan, executives are explicit in letting managers know that they're encouraged to hire people with disabilities. This way, managers can hire people without looking over their shoulders and wondering whether their bosses will judge them for it.
In addition, a disability network is a great way to support people with disabilities by helping them build community with co-workers who are experiencing similar issues. Over the past year, BlackRock has built a disability network of over 400 employees, who come together in-person and online to share their stories and raise awareness among professionals inside and outside the company. At the initial meeting, the company's president spent two full hours with attendees.
On the network's website, members can join a buddy list that tells other people in the company which disability or disabilities they've been diagnosed with. This way, an employee with cerebral palsy can see that they are not alone, and that there are other people with the same condition who are thriving in the company.
Moving forward, BlackRock's disability network is working with other organizations in its industry to conduct research and develop best practices for building a more inclusive work environment.
Watch Allison Kleinman and Jim Sinocchi's conversation in entirety here
Want more insight from the Women's Leadership Forum? Watch our main stage panels on our YouTube channel.