Announcing our Prebid Video Training Series
Header bidding has quickly become an indispensable tool for publishers, with over 73% of sites in Alexa.com's top 1,000 employing some kind of header bidding setup. That's not surprising given the yield gains header bidding can help publishers achieve by creating more competition between demand partners. We've been thrilled to help drive adoption by leading the development on Prebid: the most widely-adopted open-source header bidding wrapper.
But while header bidding gives publishers more control over how they monetize their inventory, it also requires them to pick up a whole new set of technical skills. 
That's why we've released a free training video series that tells publishers everything they need to know to succeed with Prebid. We hope that this will help current Prebid users get better results and empower publishers who haven't yet adopted header bidding to get started.
What's new?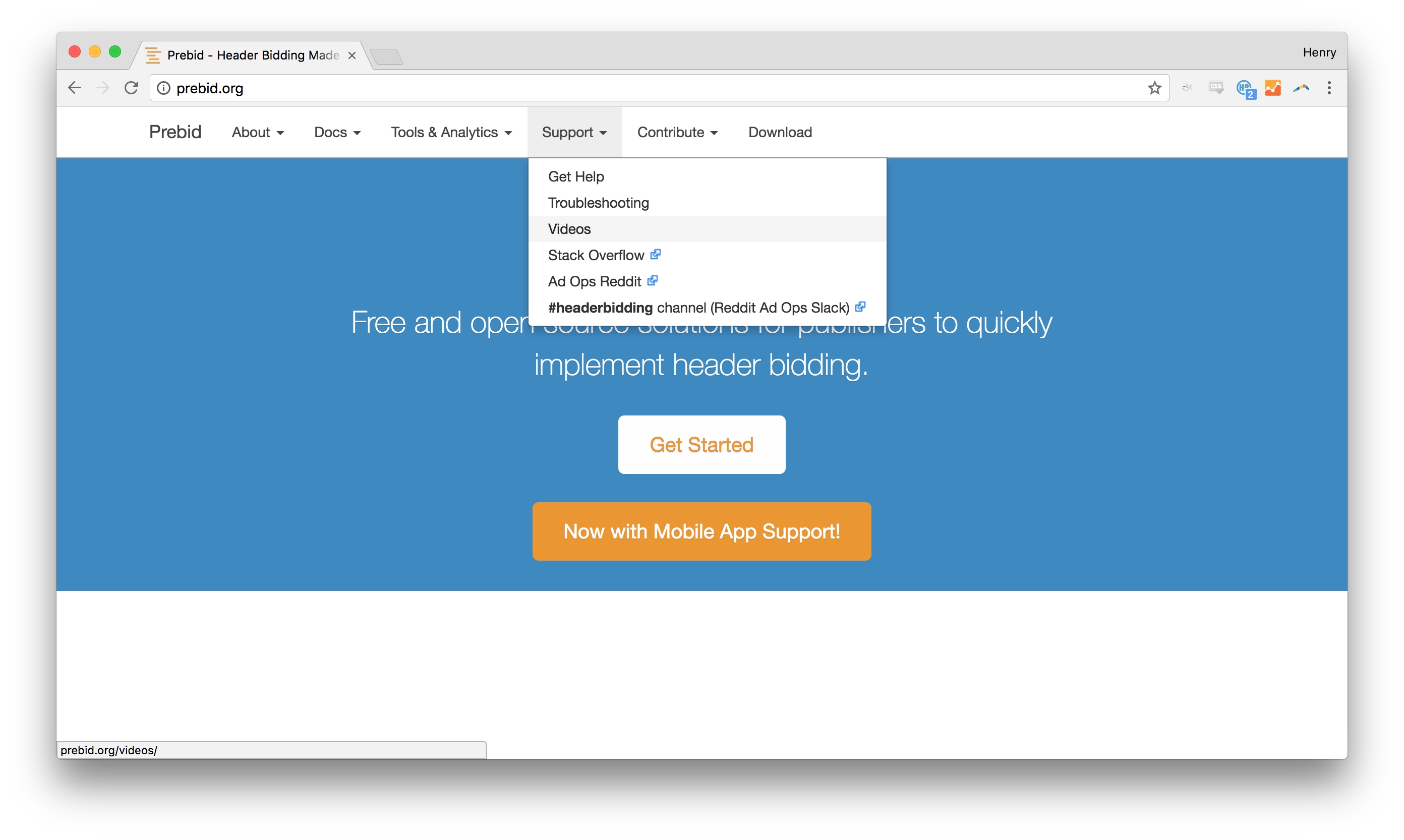 Starting today, you'll find a new "Videos" section under the Support tab of Prebid.org's navigation bar. Click there, and you'll find 12 new training videos covering: 
How to set up Prebid:
Header Bidding 101
Downloading and Installing Prebid.js
Ad Server Setup for Header Bidding
Setup DFP for Header Bidding
Ad Units Array Setup
How to troubleshoot Prebid:
Troubleshooting Header Bidding Configuration
Troubleshooting Ad Server: Size and Inventory
Troubleshooting Ad Server: Line Item and Priority
Troubleshooting Header Bidding Calls 
How to get started with Prebid Video: 
General Guide to Prebid Video
Guide to Prebid Instream Video
Guide to Prebid Outstream Video
Between these 12 videos, we've covered nearly every question or issue a publisher could have about Prebid. The Prebid Video guides are particularly noteworthy, as this is a relatively recent extension of the tool that we've not yet been able to cover in any of our training materials.
For current Prebid users, Prebid.org's new Training section will give you a single place to meet all your training needs and troubleshoot common issues. For new Prebid users, we expect these videos to help you onboard and start getting results with header bidding faster. And for those who aren't yet using Prebid – or perhaps not using any header bidding wrapper at all – we hope these videos will answer any questions you have about the setup process and show you how to approach header bidding when you decide the time is right. 
If you have any questions, please contact us here or reach out to your account manager!